Commercial/Business Insurance
---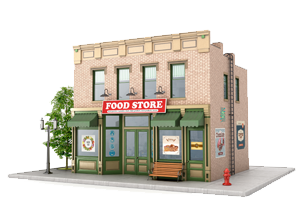 Different types of business insurance plans provide coverage from different accidents, lawsuits, and damages that could impact a business. Our policies address common risks for small businesses. The friendly and helpful staff at Martin & Martin Insurance are available to discuss your business operations and recommend coverage plans for your business.
Business Owner's Policy
A business owner's policy (BOP) bundles general liability insurance with commercial property insurance. It typically costs less than if the policies were bought separately.
General Liability Insurance
General liability insurance covers common business risks like customer injury, customer property damage, and advertising injury. It protects your small business from the high costs of lawsuits and helps you qualify for leases and contracts.
Commercial Umbrella Insurance
Once a policy's limit is reached, commercial umbrella insurance provides additional coverage for liability claims made on general liability, commercial auto, or employer's liability insurance.
Commercial Auto Insurance
Commercial auto insurance covers legal bills, medical expenses, and property damage if a business vehicle is involved in an accident.
Workers' Compensation Insurance
Workers' compensation insurance covers medical costs and lost wages for work-related injuries and illnesses. This policy is required in almost every state for businesses that have employees.
Additional Customized Insurance Coverage Plans Includes
Contractor Insurance, Restaurant Insurance, Farm Insurance, Non-Profit Insurance, School Insurance and other customized plans are available.
---
Contact Us to Discuss Your Business Insurance Coverage
We know that there are many ways to purchase commercial insurance these days, we appreciate the fact that you are considering Martin & Martin! Stop by our office in Historic Downtown Noblesville or click on the button below to start a dialogue with us.

---
Erie Insurance Related Information
Growing Your Business: 9 Tips for Opening a New Location
So You're Hiring Your First Employee
The Ultimate Guide to Company Vehicles: Purchasing, Maintenance and Resale