Life Insurance
---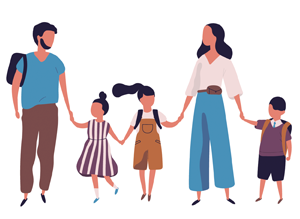 Life insurance is the exchange of a relatively small payment each month — a premium — for a very large amount of money when you die — a death benefit. A high enough death benefit covers living expenses, such as a mortgage, and your kids' college tuition. It can also provide a financial cushion for unforeseen expenses for your family.
Make an Investment in the Future for Your Family
Individual life insurance is arguably the biggest investment you can make in your loved ones' security. It's a complicated field, but don't let that put you off. We'll be happy to talk you through the options.
Insurance Decisions - Term and Whole Life Insurance
There are two major types of life insurance—term and whole life. Whole life is sometimes called permanent life insurance, and it encompasses several subcategories, including traditional whole life, universal life, variable life and variable universal life.
Term Life Insurance
Term Insurance is the simplest form of life insurance. It pays only if death occurs during the term of the policy, which is usually from one to 30 years. Most term policies have no other benefit provisions.
There are two basic types of term life insurance policies: level term and decreasing term.
Level term means that the death benefit stays the same throughout the duration of the policy.
Decreasing term means that the death benefit drops, usually in one-year increments, over the course of the policy's term.
Whole Life / Permanent Insurance
Whole life or permanent insurance pays a death benefit whenever you die—even if you live to 100! There are three major types of whole life or permanent life insurance—traditional whole life, universal life, and variable universal life, and there are variations within each type.
---
Contact Us to Discuss Life Insurance Coverage
We know that there are many ways to purchase life insurance these days, and it can be complicated to understand your policy choices. Stop by our office in Historic Downtown Noblesville or click on the button below to start a dialogue with us.

---
Erie Insurance Related Information
Term Life Insurance: How Long Should My Coverage Last?
Life Insurance and Health Conditions: A Deal Breaker?