Homeowners Insurance
---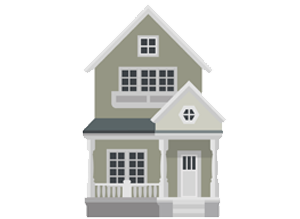 Your home is the center of your life. It may also be your biggest financial investment, so make sure you cover the unique risks you face with our homeowners' insurance. Martin & Martin Insurance is here to help you find a policy that will take care of both small and large risks related to owning a home.
Every Home is Unique and You need Coverage that Reflects That
The typical homeowners insurance policy covers damage resulting from fire, windstorm, hail, water damage (excluding flooding), riots and explosion as well as other causes of loss, such as theft and the extra cost of living elsewhere which the structure is being repaired or rebuilt.
Contact us to discuss the risks your home faces and we can customize your coverage to fit your specific needs.
Do you have the Coverage you Need?
The most important thing you can do to safeguard your home and property is to understand that your insurance policy is a contract and you need to know what's in it. Homeowners need to do annual insurance policy "check ups" to make sure they keep up with local building costs, home remodeling and inventories of their personal belongings.
Contact Martin & Martin to discuss your current coverage with an annual insurance "check up".
---
Understanding Your Homeowners Insurance Coverage
Insurance is something most people don't even want to think about until they need it the most. However, understanding what is and isn't covered in your homeowners insurance policy can mean the difference of being able to rebuild your home and replace your personal belongings.
We know that there are many ways to purchase homeowners' insurance these days, we appreciate the fact that you are considering Martin & Martin! Stop by our office in Historic Downtown Noblesville or click on the button below to start a dialogue with us.

---
Erie Insurance Homeowners Related Information
Checklist: How To Winterize Your Home To Save Money and Energy
Shopping Safety Tips for the Holidays
37 Random Things You'll Need When You Buy a House